Colorado Tile Pro is Denver's leading stone and tile installation company. We've been servicing home owners, designers, architects, and builders for over 30 years.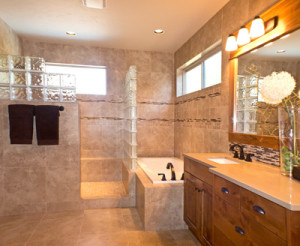 We are expert tile installers, locally-owned and operated, with superior support to make the coordination in the field far more efficient and effective. This makes us a full-service company, unlike the normal tile-setter. We're capable of handling large or small high-end residential projects.
With over 30 years of experience, Colorado Tile Pro offers an unequaled longevity in the tile business in Denver, Boulder and Aurora, Colorado.
We're located in Lakewood, CO which makes us centrally located to both the Denver Metro area, as well as the entire Front Range.
Reasons to use Colorado Tile Pro for all your installation needs:
Craftsmanship is our only way.
We deliver higher quality and service than what was asked for
We have expert knowledge of installation technology. And we're always researching new products and techniques that can help us improve what we already do.
We provide Do It Yourself support, which is unusual for a contractor to provide.
We do "mud" work on floors and walls. Mud on walls is an almost lost technique in the industry.
We are always on or ahead of schedule, no matter what it takes to do it.
 We provide all types of tile and stone setting services:

Tile Setting: install ceramic, porcelain and all other kinds of tile,
Marble Laying: install marble, granite, limestone, travertine, etc.,
Stone Masonry: install any stone in slab, with mortars, mechanical fasteners, etc.
Water Feature Construction: create and install custom water features, etc.
Contact us today to learn how we can help you with your next tile or stonework project.