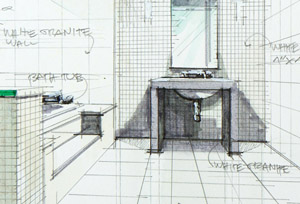 We Are A Leading Tile Contractor Denver CO Company
When you hire a tile contractor Denver CO company for a tile installation project, it's important to look for a business that has been doing this type of work for several years. Our residential tile contractor Denver CO company has been assisting architects, designers and homeowners for over 30 years. We are proud to be locally owned and operated and provide commercial tile contractor Denver CO service as well as tile repair Denver CO service. When you require top-notch stone tile contractor Denver CO service, be sure to contact us. We have tile technicians, equipment and knowledge to help you create a beautiful look in your kitchen or bathroom
Let Our Commercial Tile Contractor Denver CO Business Assist You
If you're going to be involved in a commercial building project and need tile work done, it is important to use a company that has a vast amount of expertise and experience. We believe that our commercial tile contractor Denver CO business is that type of company. We can handle all types of commercial projects and would be happy to provide you with a free quote. Contact us today to learn more.
Utilize Our Specialized Skills
When you require a residential or commercial tile project to be completed correctly, you must utilize a tile contractor Denver CO company that understands the ins and outs of proper tile installation. When you hire our company to handle your next project, you'll have one or more of our trained tile technicians on the job, which helps ensure that it gets done right. We have specialized equipment that we use to make sure each tile is placed in the right spot.
Do You Need Assistance from A Tile Repair Denver CO Company?
Do you need to have tiles replaced? We are proficient in all types of tile repairs, which include marble repair, granite repair, porcelain repair as well as old floor leveling. Whether you require a new ceramic tile installation or a tile repair job completed, we are happy to offer our services and get the job done right the first time.
Perfect for Kitchen or Bathroom Remodeling
If you're thinking about remodeling your bathroom or kitchen, you may want to focus on making changes to the floors in each room. By utilizing our residential tile contractor Denver CO company, you can have a beautiful tile floor installed that makes each room look modern and clean. Contact us when you are ready to get started.